Peter Baumann retires
Peter Baumann is going to retire at the end of April 2020. We had three questions for his friends, colleagues, and companions:
On what occasion did you meet Peter Baumann?
Which moment with Peter Baumann sticks out in your memory?
Which character trait/skill best describes Peter Baumann?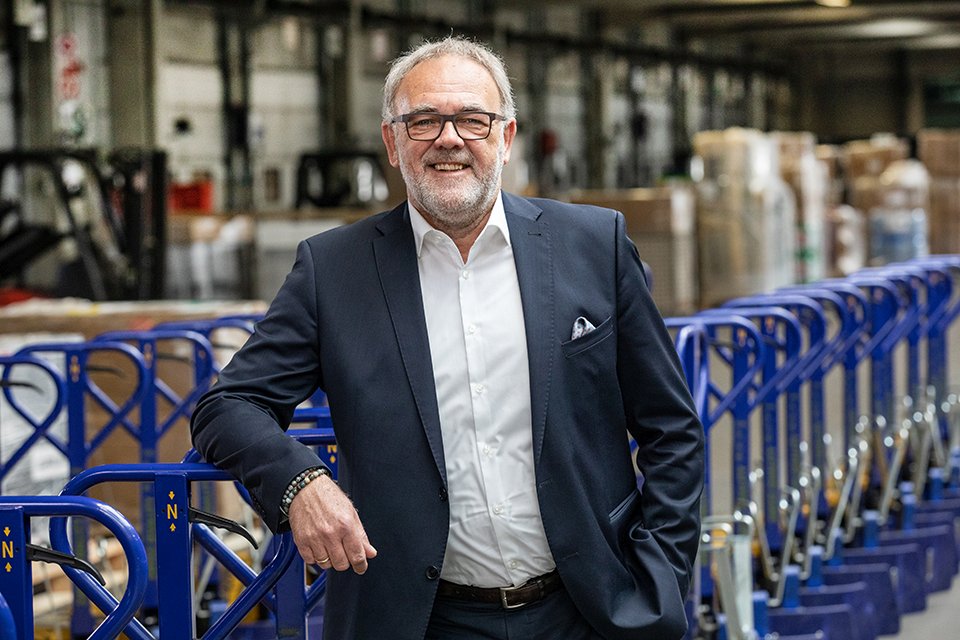 Reading the replies will give you a rough idea of what Peter Baumann has done for 24plus!
Prof. Dr. Michael Huth, Fulda University of Applied Sciences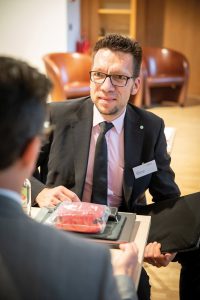 First encounter: At the authors' meet-up of the Forwarding and Logistics Association Hesse/Rhineland-Palatinate (SLV) in 2008.
Memory: The occasional photos in his Whatsapp status, which were at once unorthodox, cool, and elegant.
Character trait/skill: His positive candour and straightforward attitude.
Hans Pöllmann, Wild & Pöllmann PR
First encounter: There was a major meeting concerning media relations in 1998, the entire advisory board was present. My business partner at the time was responsible for the 24plusPunkte. I had just come on board from Bertelsmann, where I had done media work for Deutsche Post. I still remember the board being sceptical about whether 24plus should do active media work, and that I had a bad cold. I had taken herbal medicine and my partner scolded me in the meeting for reeking of alcohol. We got the job anyway.
Memory: Every memory with Peter Baumann is special. I was absolutely stunned when he, in 2010, suggested that we speak on a first-name basis.
Character trait/skill: Convention or fever pitch, partners' meeting, association meeting or press interview – Peter Baumann is able to adjust to others in a matter of seconds.
Cornelia Nieves, assistant to the management, 24plus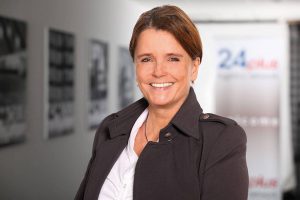 First encounter: During my recruitment, shortly before Pentecost 2009.
Memory: When my daughter had an accident, he wrote to me that I could stay at home until everything was taken care of and she and I felt better again. He not only wrote it, he meant it: I was not contacted, and the fever pitch that I had organised on my own took place despite the fact that I left in the middle of the planning stages. He completely had my back.
Character trait/skill: His trust. We at 24plus all have many liberties and can work self-determinedly; we are supervised, but not surveilled. He always trusted us to work responsibly. He also exercises this trust towards partners and service providers. By the by: Peter Baumann is not a morning person!
Steffen Renner, Elvis, former QM auditor and managing director of 24plus hub logistics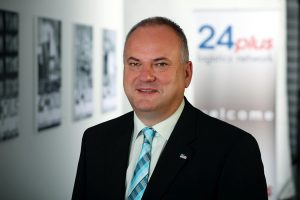 First encounter: My first meeting with him was my job interview. And that also happens to be the first anecdote: After I called to say that I would be not be able to make it before 06.00 PM, Mrs Jordan told me that this wouldn't be a problem, since the boss was always at the office until 02.00 AM anyway. And that's how it was. He lived and loved 24plus to the point where he forgot the time. By the way, I initially didn't get the job. I was second choice and was only taken on because the desired candidate declined the offer. Nevertheless, I made my way at 24plus.
Memory: The long night at our favourite Italian restaurant, when I was supposed to become managing director of hub logistics and we discussed responsibilities. Peter Baumann always called the hub his baby, now I was to assume key responsibilities. There can't be two bosses – how was I supposed to tell him to let go of the hub? I explained it with the image of a symphonic orchestra: The hub is the orchestra and has one conductor, and that's me. Peter Baumann's face turned to stone, and he asked: "Which role do I play in the orchestra?" My answer: "Artistic director. You decide what we're playing, and I decide how we're playing it." And it worked, right from the beginning.
Character trait/skill: He is not resentful at all. There were quite a few blowups, but that was it. He is always approachable in the case of problems. And his persuasiveness. He was always able to motivate me when I had no energy left. I highly appreciate that.
Kees Kuijken, KLG Europe und long term member of the supervisory board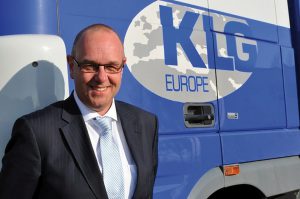 First encounter: That was when KLG Europe – then operating under the legal name VTE – was offered a membership at 24plus. I remember that Peter Baumann had made a strong impression with his structured approach. Back then, we were also talking to other German networks; we only joined 24plus because of Peter.
Memory: Aside from our first meeting, Peter often won me over with his ability to steer partner meetings into the right direction. His arguments are fact-based, strategic, and presented in a friendly manner. His maxim is: everything for 24plus. He never pursued his own agenda. That's what my trust in Peter Baumann and my respect for him are based upon.
Character trait/skill: Peter is honest and a strong strategist, who thinks in terms of structures and processes. This, his familiarity with the market, and his ability to persuade people made him the perfect leader for the cooperation.
Martin Lembke, Ferdinand Heinrich Logistik GmbH
First encounter: Peter and I met in the early nineties, meaning before 24plus, in the frame of in-house studies at our former employer.
Memory: The warmth of our greeting when we met again several years later in Hamburg at the company I had only recently been employed by.
Character trait/skill: In addition to his professional skills, Peter is a great entertainer. I had already realised this when we were studying together, and in this area he usually set a pretty high bar for everyone else.
Olaf Bienek, Kunzendorf Spedition Berlin, long time spokesman of the 24plus supervisory board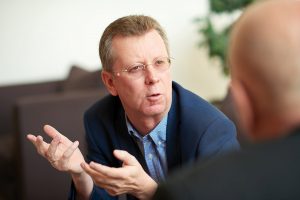 First encounter: At the partners' meeting in 1998 where Peter Baumann was present as a guest. We spontaneously exchanged ideas about the strategic developmental opportunities of a young, medium-sized European LCL cooperation. At the time, the actual implementation of a self-owned hub was only a dream of the future.
Memory: We were looking for a new partner for 24plus in Schleswig-Holstein, drove through the hinterland all day and had one meeting after another. When we arrived at the hotel in the evening, we wanted to talk a bit about 24plus in general. After a little while the hotel service said good night and told us that we could stay a while if we wanted. When the early shift began the next morning, we were still sitting there discussing 24plus' strategies for the future.
Character trait/skill: His richness of ideas and his creativity.
Olaf Horvat, LGI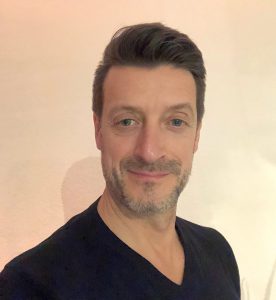 First encounter: At my first tour of the hub over 20 years ago.
Memory: When we spent a great time together at the Merkers Adventure Mines. The group was small, which meant that we had the time for a good conversation.
Character trait/skill: Mr Baumann had great negotiating skills with which he was able to impact and further develop projects and pull logistics colleagues over to his side..
Ralf Wieland, head of management at Emons and a long, long time ago the managing director of 24plus who preceded Peter Baumann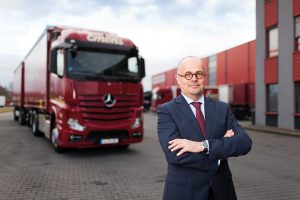 First encounter: I first met Peter Baumann when he joined 24plus in 1998.
Memory: Many years later I met him as a participant on behalf of Emons at the 24plus partners' meeting and was impressed by the clarity and rigour with which he managed and directed these difficult events.
Character trait/skill: I especially value Peter Baumann's reliability as well as his sense of humour.
.
Stefan Rehmet, 24plus managing director and successor to Peter Baumann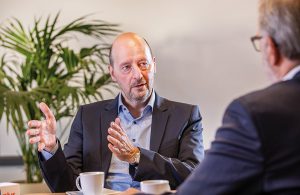 First encounter: Our first meeting took place during the job interview in Hauneck. That was together with the supervisory board in October 2018.
Memory: The accolade for Mr Baumann at the 24plus Christmas party.
Character trait/skill: Mr Baumann has a detailed answer to every question.
Rüdiger Lode, Spedition Lode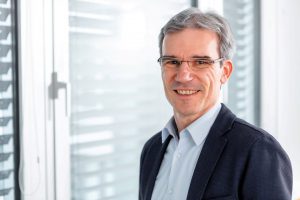 First encounter: In the frame of the activities in the work groups production and IT.
Memory: The long nights of the work group production at the old hub in Eichenzell in order to determine the processes there. It was cold, dark, and probably a little dangerous between the lorries and forklifts. This helped us enormously in setting the processes for the new hub in Hauneck so that it was able to start operations without a hitch.
Character trait/skill: We were both very open with each other and never resentful when we disagreed. Peter Baumann always looked for balanced solutions and attempted to integrate all system partners into important decisions. He consistently and unwaveringly stood by his convictions.
Michael G. König, retired managing director of August L. König GmbH and founding managing director of 24plus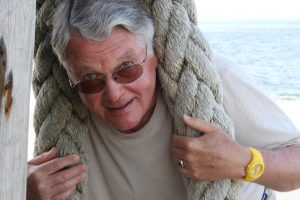 First encounter: I hired Peter Baumann together with Jörn Lembke. In 1996, I was founding partner and founding managing director of 24plus. Then came Ralf Wieland, today head of Emons, as managing director – and when he left us, we were looking for a successor who was located in Hauneck, even though the headquarters and the hub were only in the planning stages. Peter Baumann came from Schenker and had experience with networked logistics. During the first two years, until Hauneck was put into operation, Peter Baumann was with me in Frankfurt. You could fit 24plus into a room and a half.
Memory: Peter Baumann left a lasting impression on me when we were planning the facility in Hauneck. Despite the fact that we had an architect, Peter Baumann was calling the shots. He had the plans all in his head. Later, we remained in close contact where all things real estate were concerned – me as managing director of the property company that ordered and paid for the building, he as managing director of the renter.
Character trait/skill: Peter Baumann is able to think and act in terms of networked logistics. That made our cooperation pleasant and fruitful. He could be relied upon.
Jörn Lembke, retired branch office manager of Ascherl Hamburg and initiator of 24plus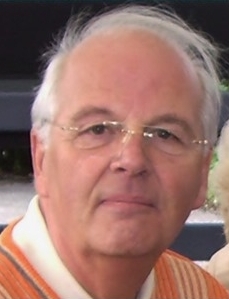 First encounter: I first met Mr Baumann as an applicant. As spokesman of the partners' committee, my partners and I were looking for a manager who could successfully lead the cooperation into the future.
Memory: During the interview I garnered the certainty that this man was not looking for a job, but for a sophisticated professional challenge with broadly diversified design opportunities.
Character trait/skill: In my opinion, Peter Baumann solidly combines the will to success with assertiveness.
Ludger Rumker, head of quality management, 24plus
First encounter: During my job interview at 24plus at the end of the last century (millennium) in the then brand new facility in Hauneck.
Memory: His uncomplicated and generous reaction when I – prior to official rules and regulations concerning parental leave for fathers – needed (part-) time for my wife and newborn daughter.
Character trait/skill: His wit and his ability to be convincing in spontaneous conversations and difficult situations.
Detlef Dörrié, Addax Assekuranz-Consulting GmbH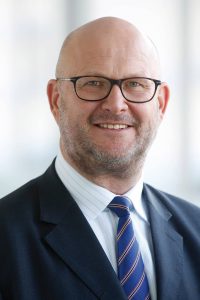 First encounter: On the occasion of the presentation of our insurance concept for 24plus, which feels like it was twenty years ago.
Memory: The good conversations at the transport exhibition Munich as booth neighbours.
Character trait/skill: His very likable and captivating personality.
Harald Preßmann, mayor of the municipality of Hauneck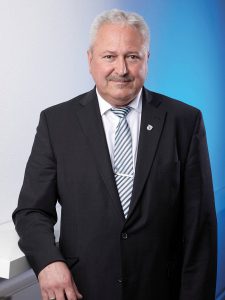 First encounter: When I visited him at the location "Blaue Liede" after my election to mayor of Hauneck in the summer of 2004.
Memory: I set up an industry round table. Mr Baumann was immediately on board and has always supported this endeavour up until today.
Character trait/skill: He is friendly, competent, straightforward, reliable, and determined. I very much enjoyed working together with him.
Herbert Weber, managing director of Lagermax and member of the 24plus supervisory board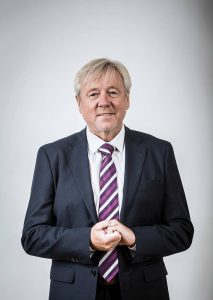 First encounter: That was around the turn of the millennium. Lagermax was looking for a system network in Germany. There was already a loose cooperation with IDS partners in place when someone called Peter Baumann contacted us and requested a personal conversation. He was able to convince us from the get-go – this man seemed to have a real vision. In the end, we joined 24plus in the same year.
Memory: A particularly impressive memory took place around ten years ago. This concerned a tariff problem we had with transports to Hungary and the Czech Republic. Peter Baumann recognised the problem. In the frame of a partners' meeting, we jointly had to present the issue, which was partially met with great resistance. He set things straight with a very emotional appearance. The way he asserted himself with the help of his acting skills was exemplary. On this day, he could conceivably also have played the part of the murderer in a whodunit.
Character trait/skill: Peter Baumann was an enthusiastic visionary who did not cling to old habits but rather dedicated himself to new tasks and developments in his enthusiastic way.
Volker Dietz, Architekturbüro Dietz – architect of the central hub
First encounter: That was towards the end of the 90s in the old forwarding facility König in Frankfurt's Western Harbour. Today, this is one of the nicest areas in all of Frankfurt. I was brought to the last connecting room and introduced to Peter Baumann by Mr König. Together with Heinz Pfaffenbach, my boss at the time, as well as my wife Kerstin Hug-Dietz, who is also an architect, we had our first conversation. I have to admit that, after the first few conversations, it wasn't quite clear to us in which direction we were supposed to be heading. We found out in the frame of a number of exciting follow-up meetings. Together with Peter Baumann, we witnessed the beginning of the first full-blooded hub.
Memory: I have enough memories to fill several pages. In addition to the small office building in Frankfurt and our introduction as an architecture office in the hotel "Zum Stern" in Bad Hersfeld", many work processes accompanied us. The memory that resonates most strongly with me is the discussion about the effectiveness of processes with regard to the planning of the central hub:
– "How long do how many employees need to cover which distance?"
– "How wide can/must the hall then be?"
– "How long are the ways to the underground conveyor belt?"
– "How many goods can be moved on the conveyor belt at a time?"
And many other things. The question of why we put little balconies on the office building reverberates until today. I said with a wink that this is the smoker's balcony, and simultaneously pointed to his pipe bag. We were allowed to conduct a very creative event at the logistics fair in Munich. I worked on a movable tower with four large canvasses in the frame of a live painting event during four days of the exhibition. The entire painting was auctioned off for €23.900.
Character trait/skill: Reliability, precision, stamina, and a down-to-earth mentality always stood out to me. With his combination of calmness and a healthy dose of business pressure, he has a way of conducting business you regrettably encounter few and far between these days.
Stefan Polster, branch office manager at Robert Müller GmbH, Chemnitz, and former member of the supervisory board
First encounter: I had my first contact with then branch office manager Peter Baumann in January 1999 at the König branch office in Frankfurt. We talked about rent guarantees in the hub.
Memory: We had a meeting during my time as member of the supervisory board where we talked about very difficult issues, which Mr Baumann tackled with all of his energy.
Character trait/skill: He has a gift for convincing others of his cause through rhetoric and presentation.
Rainer Pietrzyk, Spedition Reischl und Schneider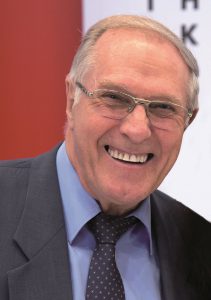 First encounter: I had my first contact with Mr Baumann on the occasion of a 24plus partners' meeting; the subject was the connection of the freight forwarding company Reischl und Schneider, Ulm, as a 24plus system partner and founding partner. We stayed in contact until my last partners' meeting in 2017.
Memory: During all these years I particularly appreciated his straightforwardness and professional expertise regarding his managerial responsibilities.
Character trait/skill: Particularly convincing was his determination to, since the founding of the 24plus Systemverkehre in 1997, lead the company group into a strong position in the area of national and international LCL transports by means of excellent quality management. Deserving of a special mention is his leadership style towards all 24plus partner companies, which was particularly noticeable at the regular partners' meetings. For the next stage of his life, I wish Mr Baumann good health and lots of time for the pleasant things in life!
Reiner Joseph, long time IT coordinator of 24plus
First encounter: That was in 1999 in the Rhön spa in Fulda. During this encounter he drew a sketch of a hub's processes on a napkin, the later central hub.
Memory: 2007 on the corridors of Euro-Log. He informed me about topics and results five minutes before the beginning of the central event.
Character trait/skill: I see the following qualities as being central to him: trustworthy, visionary.
Liga Kalnina, Göllner Spedition, Riga
First encounter: During our conversations about the incorporation of Göllner into the 24plus family.
Memory: The exciting tour of the central hub for the partners at night.
Character trait/skill: His impressive knowledge in all areas. Peter Baumann is fully dedicated to the cause and is a very interesting conversation partner.
Thorsten Hölser, Forwarding and logistics association Hesse/Rhineland Palatinate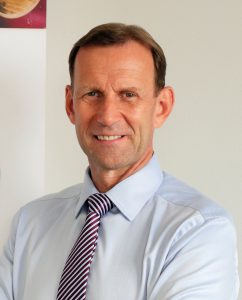 First encounter: I met Peter Baumann at the beginning of his 24plus activities when he singlehandedly began building the cooperation in Frankfurt's Western Harbour. Since then, our paths have crossed periodically in association meetings and in joint research projects time and time again.
Memory: As a fan of the BVB, I like to remember how Prof. Lohre (a fan of Schalke) and I gave Mr Baumann a jersey for his 50th birthday at the transport logistic in Munich. It was a black and yellow jersey of his favourite club with "Baumann – 50" printed on the back!
Character trait/skill: He advanced dynamic projects with his strategic foresight, while always being an even-tempered and fair partner in conversations.
Prof. Dirk Lohre, Heilbronn University of Applied Sciences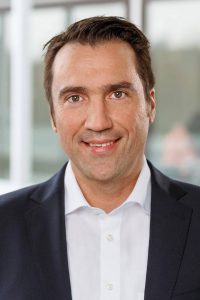 First encounter: During a session of the task force LCL at the BSL in Bonn. That was in 2001.
Memory: There are too many, but one in particular shaped how I saw Peter Baumann: It was a phone call. We had just spent six months preparing a joint project. Shortly before it was set to begin, an important partner abruptly left the project and it was on the verge of being cancelled. During that phone call, I learned a lot about reliability, situation analysis, and how to keep one's cool.
Character trait/skill: His aforementioned reliability and his instinct for situations. But first and foremost his ability to move and inspire other people, which always became apparent when Peter Baumann discussed transport networks with our Master's students.
.
Heinz Wolf jun., Michael Wolf oHG, Straubing, and member of 24plus' supervisory board
First encounter: Peter Baumann was introduced to me at a partners' meeting. I still remember how he was called in during the ongoing event. An optimistic young man came through the door. The first time we talked was when he moved from Dortmund to Darmstadt, for which he had booked our moving company. He visited our company soon after.
Memory: I fondly remember the anniversary events in Rostock, Hamburg, and Bad Hersfeld. Peter Baumann did a great job organising these fun events.
Character trait/skill: He is honest, reliable, and has exceptional people skills. His emotional intelligence is on a very high level. He enjoys communication. He is familiar with the technology and IT in particular, and has a far-sighted strategy.
Kersten Schwinn, Technical Inspection Association (TÜV) Hesse
First encounter: During my first QM audit in the system headquarters in 2002 or 2003. Since then, we've met once a year at the audit evaluation. Most of the time, the meetings take no longer than an hour. For me, however, this hour is important and pleasant.
Memory: Handing over the first QM certificate to 24plus on the transport logistic in 2003. 24plus' special event was body-painting, that's why there is a photo of me next to a scantily clad woman who was painted beautifully. I might be able to find that old picture somewhere.
Character trait/skill: Peter Baumann is extroverted and is good at communicating. Since we are both from southern Hesse, we have a fundamental sympathy for one another, which I hope is going to continue now that he is retired.
Natascha Puhl, Active Logistics, formerly Peter Baumann's assistant as Natascha Jordan
First encounter: I met Peter Baumann in 1999 during a job interview. Back then, the system headquarters were located in the freight forwarding company August L. König in the customs office complex of Frankfurt's Western Harbour.
Memory: I particularly remember 24plus' presence at the transport logistic in Shanghai. Presenting the company in a far away country with an entirely different mentality and language was a great challenge for all of us and remains a special experience.
Character trait/skill: In the roughly ten years that I worked as an assistant to the management of the 24plus system headquarters, Mr Baumann has always been a great listener and advisor. Whether in a professional or a private context: He always has a sympathetic ear.
Andreas Ritter, Ritter Logistik Langenhagen, founding member of 24plus
First encounter: I met Mr Baumann in the context of a partners' meeting of 24plus Systemverkehre, when he was introduced to the partners as the new managing director.
Memory: Mr Baumann was involved in the planning of the central hub in Hauneck, which is still state-of-the-art today, and also initiated the lion's share of the product portfolio of 24plus Systemverkehre. Additionally, Mr Baumann always enthusiastically promoted IT integration within the cooperation.
Character trait/skill: To me, Mr Baumann is a unique personality and very good at communicating. He is not affected by the sensitivities of individual partners; instead, his perspective always encompasses the bigger picture of the network. I always had the feeling that Mr Baumann's heart and soul were deeply connected to our 24plus network. That is why the network will dearly miss him and his experience.
Jörg Fürbacher, Euro-Log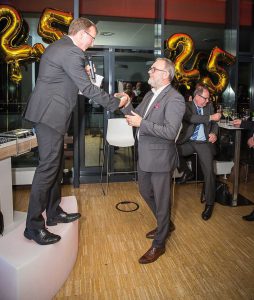 First encounter: I met him in 2003 at the Cebit in Hanover.
Memory: It's not a single memory, but a whole lot of them. The annual strategy meeting – where we talked about future optimisations after the operational topics had been concluded. Here, Peter Baumann always combined pragmatism with real innovation. For several solutions, 24plus was the de facto trend-setter and Peter Baumann served as creative midwife for a number of products.
Character trait/skill: His heart and passion for 24plus. Aside from that his candour, directness, and companionship, his innovativeness and creativity: Being able to envision the future with new solutions while being well-grounded is a rare and valuable combination. Thank you for this!
Uwe Müller, Robert Müller GmbH, spokesperson of 24plus' supervisory board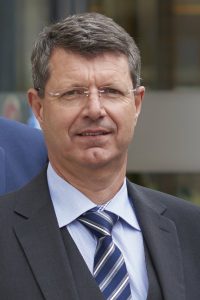 First encounter: We first met when he was introduced at a partners' meeting. I only really got to know and appreciate Peter Baumann over the years.
Memory: I was elected to the supervisory board in 2017, which intensified and changed our collaboration. That was an adjustment for both of us, which was accompanied by a deeper personal acquaintance and openness for each other's ideas. So far, Peter Baumann has fed all of his experience into the transition process, thereby contributing to important strategic decisions.
Character trait/skill: He is a strong communicator and capable of anticipating developments. I also value his renown in the world of forwarding cooperations.
Werner Schelter, retired branch office manager of Geis Transport und Logistik and former long term member of 24plus' supervisory board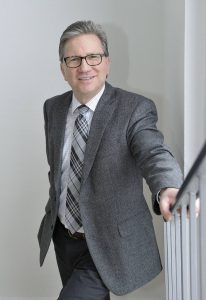 First encounter: I first met him at a partners' meeting after we had joined 24plus. I really got to know and appreciate Peter Baumann during my time as a member of the supervisory board.
Memory: To me, his continuous efforts to harmonise the partners in the cooperation at the human, partnership, and strategic level outweigh specific memories.
Character trait/skill: I value Peter Baumann as a dynamic expert and management personality who led 24plus with great dedication and further developed the company through manifold initiatives and a pioneering spirit. He also possesses a keen psychological acumen and exemplary methodical knowledge in the area of leading a cooperation.
Christoph Kleine, Kleine Spedition, member of 24plus' supervisory board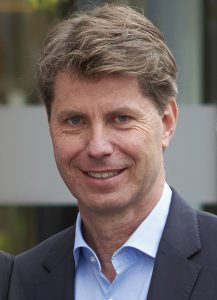 First encounter: Unfortunately, my memory is a little hazy, but I think I first met Peter Baumann during his job interview. The first lasting impression stems from his first day on the job, when the system headquarters were still located at König in Frankfurt.
Memory: There are a lot of those. I fondly remember the conception and construction phase of the hub in Hauneck during my first term as spokesperson for the supervisory board. Our controversial discussions about the building site and location of the system headquarters were very productive and resulted in the successful opening of the hub in 2000.
Character trait/skill: Peter Baumann has cultivated a sensitivity for the emotionally influenced decision-making structures of owner-managed family companies and is able to combine it with the necessary strategic concepts. One of his exceptional abilities is his instinct for varying interests of a heterogeneous group; another is his masterful moderation of decision making processes, which he proved at many partners' meetings. In addition to his versatility, I want to highlight his interest in innovating digital processes, which resulted in 24plus' modern IT structures. Peter Baumann was a godsend for the 24plus partners, since he developed the company with passion, thereby providing many companies with the chance to grow sustainably. We owe him a lot.
Eva Hassa, editor at Verkehrsrundschau
First encounter: When did I first meet Peter Baumann? I can't remember. However, I fondly remember his frank and precise demeanour.
Memory: He never hesitated to speak his mind, thereby providing important impulses on the highly contended LCL market. Apparently, he was one of the first people to acknowledge the importance of collaborating cooperations. He knew that this was the only way to ensure a future for medium-sized freight forwarding networks. This is a tough struggle that requires patience and tact. It's probably easier to herd cats than to successfully manage a freight forwarding cooperation. Peter Baumann, who managed the forwarding cooperation 24plus for over 22 years, has mastered this art, although he once told me that he sometimes like a puppet because of the way in which everybody was pulling him in different directions.
Character trait/skill: However, as a positive and enthusiastic music connoisseur who likes to party, he was able to quickly shake it off – at least on the outside. Life is beautiful. His joie de vivre is characteristic for Peter Baumann. Dear Mr Baumann, I sincerely wish you to never lose this zest for life. Stay healthy! Keep the music playing. Thank you for the time and conversations you bestowed upon me.
Bernd Vaas, retired head of Betz International and former member of 24plus' supervisory board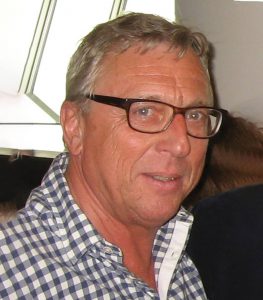 First encounter: Mr Baumann was introduced at a partners' meeting. That's where I first met him.
Memory: The new construction of the hub in Hauneck, which Peter Baumann endorsed enthusiastically, was one of the biggest challenges.
Character trait/skill: Peter Baumann always strove to improve processes and present his plans to the partners so that they could be realised. All in the spirit of 24plus. I would describe his character as energetic, experienced, resourceful, and dutiful – to name just a few of his traits. During my time on the supervisory board, I worked closely with Peter Baumann, got to know him on a personal level, and had a great time. For his retirement, I wish him good health and a good time with his hobbies. All the best!